College of Physicians & Surgeons Pakistan Consultant Jobs – Jobs in Lahore, Punjab, Pakistan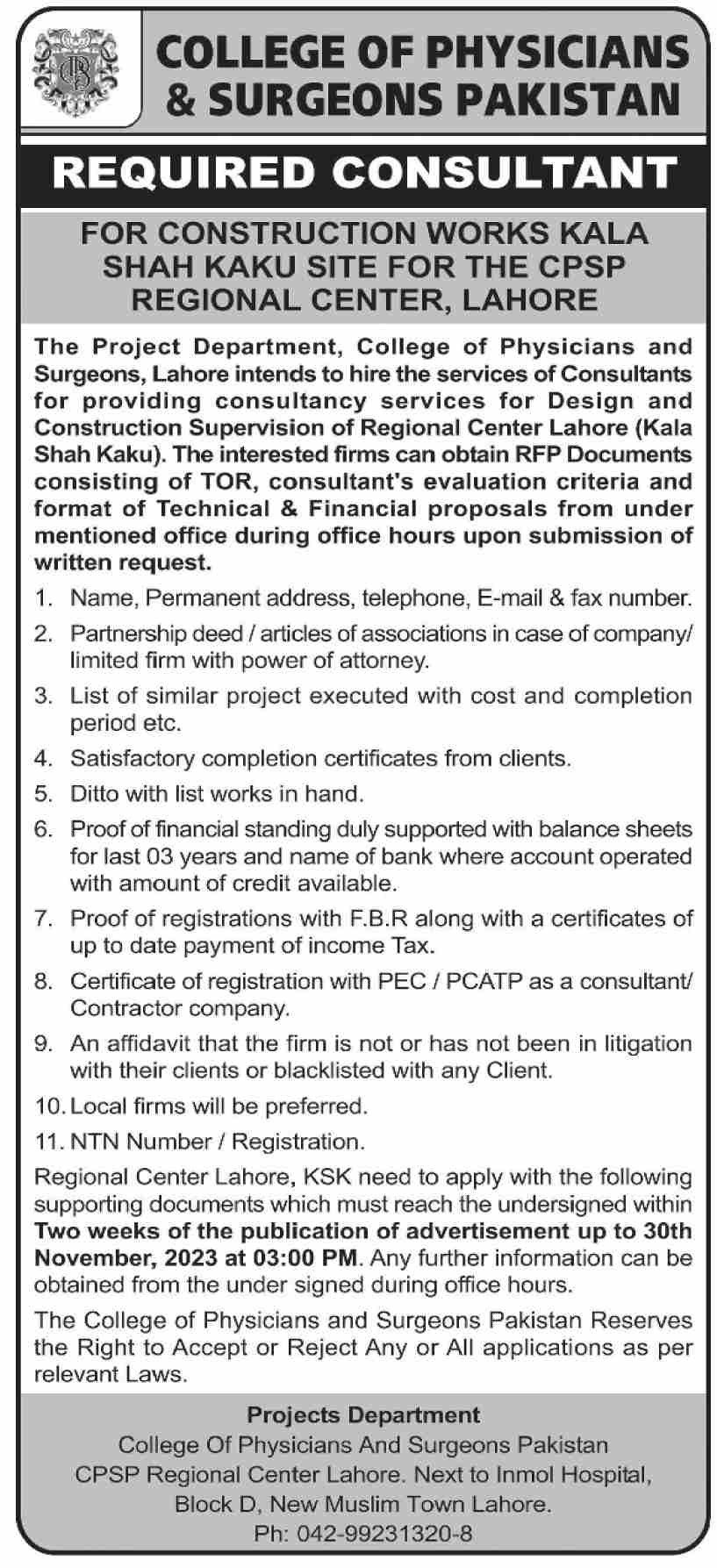 COLLEGE OF PHYSICIANS & SURGEONS PAKISTAN
REQUIRED CONSULTANT
FOR CONSTRUCTION WORKS KALA SHAH KAKU SITE FOR THE CPSP REGIONAL CENTER, LAHORE
The Project Department, College of Physicians and Surgeons, Lahore intends to hire the services of Consultants for providing consultancy services for Design and Construction Supervision of Regional Center Lahore (Kala Shah Kaku). The interested firms can obtain RFP Documents consisting of TOR, consultant's evaluation criteria and format of Technical & Financial proposals from under mentioned office during office hours upon submission of written request.
Name, Permanent address, telephone, E-mail & fax number.
Partnership deed / articles of associations in case of company/ limited firm with power of attorney.
List of similar project executed with cost and completion period etc.
Satisfactory completion certificates from clients.
Ditto with list works in hand.
Proof of financial standing duly supported with balance sheets for last 03 years and name of bank where account operated with amount of credit available.
Proof of registrations with F.B.R along with a certificates of up to date payment of income Tax.
Certificate of registration with PEC / PCATP as a consultant/ Contractor company.
An affidavit that the firm is not or has riot been in litigation with their clients or blacklisted with any Client.
Local firms will be preferred.
NTN Number / Registration.
Regional Center Lahore, KSK need to apply with the following supporting documents which must reach the undersigned within Two weeks of the publication of advertisement up to 30th November, 2023 at 03:00 PM. Any further information can be obtained from the under signed during office hours. The College of Physicians and Surgeons Pakistan Reserves the Right to Accept or Reject Any or All applications as per relevant Laws.
Projects Department
College Of Physicians And Surgeons Pakistan CPSP Regional Center Lahore. Next to Inmol Hospital, Block D. New Muslim Town Lahore. Ph: 042-992313208