Saudi Pak Industrial And Agricultural Investment Company Limited Jobs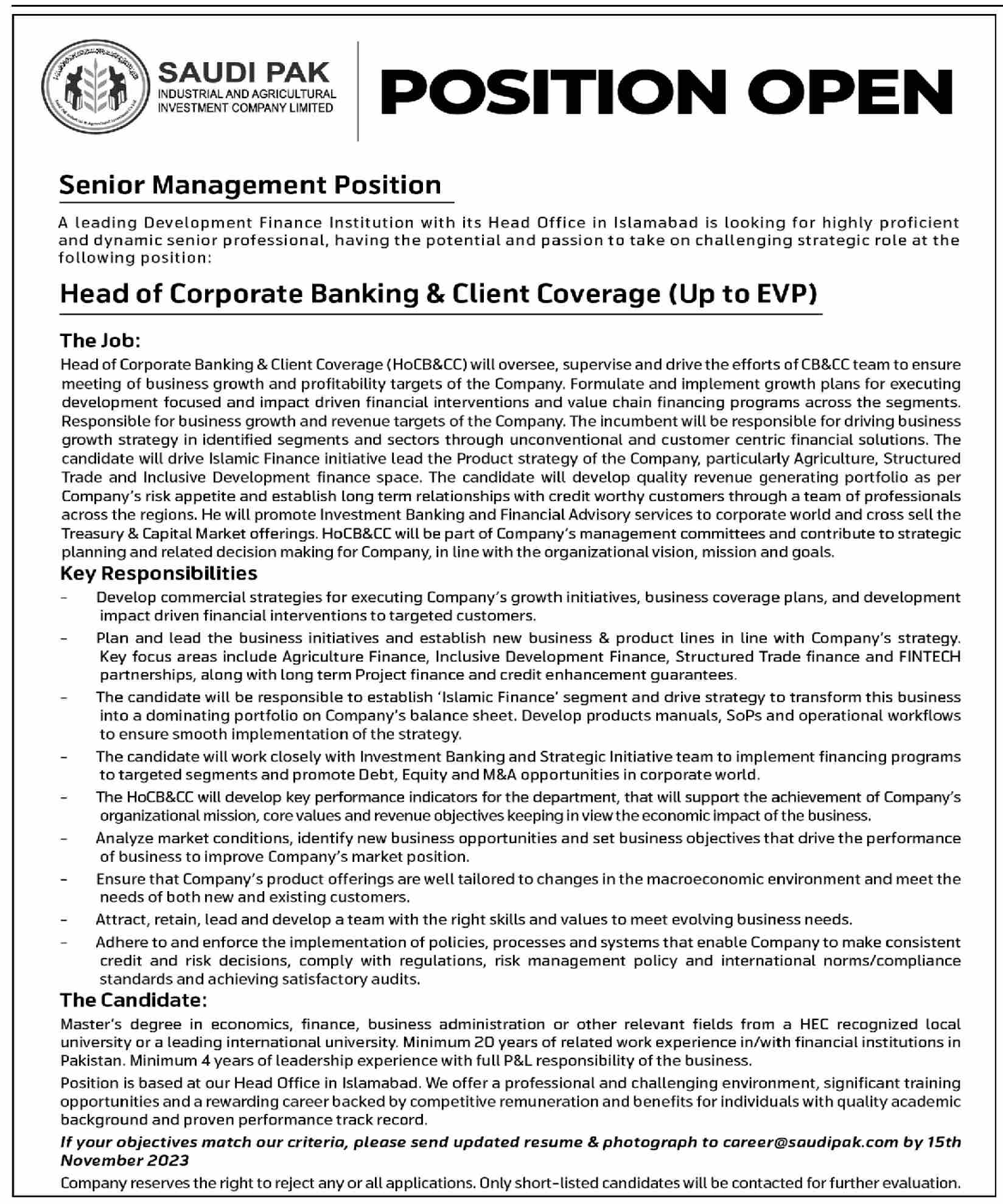 SAUDI PAK INDUSTRIAL AND AGRICULTURAL INVESTMENT COMPANY LIMITED POSITION OPEN
Senior Management Position
A leading Development Finance Institution with its Head Office in Islamabad is looking for highly proficient and dynamic senior professional, having the potential and passion to take on challenging strategic rote at the following position:
Head of Corporate Banking & Client Coverage (Up to EVP)
The Job: Head of Corporate Banking & Client Coverage (HoCB&CC) will oversee, supervise and drive the efforts of CB&CC team to ensure meeting of business growth and profitability targets of the Company. Formulate and implement growth plans for executing development focused and impact driven financial interventions and value chain financing programs across the segments. Responsible for business growth and revenue targets of the Company. The incumbent will be responsible for driving business growth strategy in identified segments and sectors through unconventional and customer centric financial solutions. The candidate will drive Islamic Finance initiative lead the Product strategy of the Company, particularly Agriculture, Structured Trade and Inclusive Development finance space. The candidate will. develop quality revenue generating portfolio as per Company's risk appetite and establish long term relationships with credit worthy customers through a team of professionals across the regions. He will promote Investment Banking and Financial Advisory services to corporate world and cross sell the Treasury & Capital Market offerings. HoCB&CC will be part of Company's management committees and contribute to strategic planning and related decision making for Company, in line with the organizational vision, mission and goals. Key Responsibilities Develop commercial strategies for executing Company's growth initiatives, business coverage plans, and development impact driven financial interventions to targeted customers. Plan and lead the business initiatives and establish new business & product lines in line with Company's strategy. Key focus areas include Agriculture Finance, Inclusive Development Finance, Structured Trade finance and FINTECH partnerships, along with long term Project finance and credit enhancement guarantees. The candidate will be responsible to establish 'Islamic Finance' segment and drive strategy to transform this business into a dominating portfolio on Company's balance sheet. Develop products manuals, SoPs and operational workflows to ensure smooth implementation of the strategy. The candidate will work closely with Investment Banking and Strategic Initiative team to implement financing programs to targeted segments and promote Debt. Equity and M&A opportunities in corporate world. The HoCB&CC will develop key performance indicators for the department, that will support the achievement of Company's organizational mission, core values and revenue objectives keeping in view the economic impact of the business. Analyze market conditions, identify new business opportunities and set business objectives that drive the performance of business to improve Company's market position. Ensure that Company's product offerings are well tailored to changes in the macroeconomic environment and meet the needs of both new and existing customers.
Attract, retain, lead and develop a team with the right skills and values to meet evolving business needs.
Adhere to and enforce the implementation of policies, processes and systems that enable Company to make consistent credit and risk decisions, comply with regulations, risk management policy and international norms/compliance standards and achieving satisfactory audits. The Candidate: Master's degree in economics, finance, business administration or other relevant fields from a HEC recognized local university or a leading international university. Minimum 2D years of related work experience in/with financial institutions in Pakistan. Minimum 4 years of leadership experience with full P&L responsibility of the business. Position is based at our Head Office in Islamabad. We offer a professional and challenging environment, significant training opportunities and a rewarding career backed by competitive remuneration and benefits for individuals with quality academic background and proven performance track record. If your objectives match our criteria, please send updated resume & photograph to careergsaudipak.com by 15th November 2023 Company reserves the right to reject any or all applications. Only short-listed candidates will be contacted for further evaluation.