Higher Education Commission HEC The Stipendium Hungaricum Scholarship Programme 2024 2025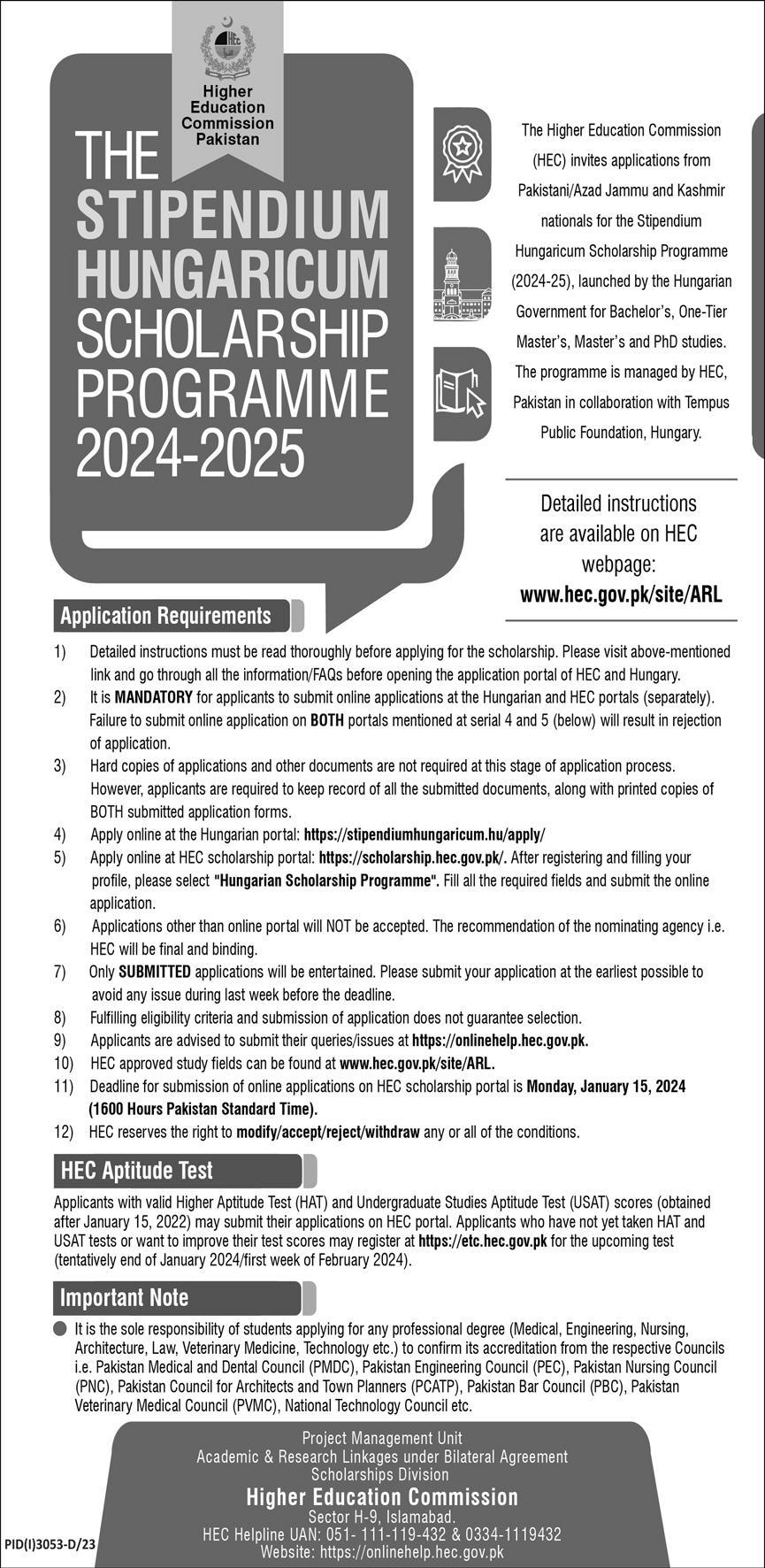 THE STIPENDIUM HUNGARICUM SCHOLARSHIP PROGRAMME 2024-2025 Higher Education Commission Pakistan
Application Requirements
The Higher Education Commission (HEC) invites applications from Pakistani/Azad Jammu and Kashmir nationals for the Stipendium Hungaricum Scholarship Programme (2024-25), launched by the Hungarian Government for Bachelor's, One-Tier Master's, Master's and PhD studies. The programme is managed by HEC, Pakistan in collaboration with Tempus Public Foundation, Hungary.
Detailed instructions are available on HEC webpage: www.hec.gov.pk/site/ARL
Application Requirement:
Detailed instructions must be read thoroughly before applying for the scholarship. Please visit above-mentioned link and go through all the information/FAQs before opening the application portal of HEC and Hungary.
It is MANDATORY for applicants to submit online applications at the Hungarian and HEC portals (separately). Failure to submit online application on BOTH portals mentioned at serial 4 and 5 (below) will result in rejection of application.
Hard copies of applications and other documents are not required at this stage of application process. However, applicants are required to keep record of all the submitted documents, along with printed copies of BOTH submitted application forms.
Apply online at the Hungarian portal: https://stipendiumhungaricum.hu/apply/
Apply online at HEC scholarship portal: https://scholarship.hec.gov.pk/. After registering and filling your profile, please select "Hungarian Scholarship Programme". Fill all the required fields and submit the online application.
Applications other than online portal will NOT be accepted. The recommendation of the nominating agency i.e. HEC will be final and binding.
Only SUBMITTED applications will be entertained. Please submit your application at the earliest possible to avoid any issue during last week before the deadline.
Fulfilling eligibility criteria and submission of application does not guarantee selection.
Applicants are advised to submit their queries/issues at https://onlinehelp.hec.gov.pk.
HEC approved study fields can be found at www.hec.gov.pk/site/ARL.
Deadline for submission of online applications on HEC scholarship portal is Monday, January 15, 2024 (1600 Hours Pakistan Standard Time).
HEC reserves the right to modify/accept/reject/withdraw any or all of the conditions.
HEC Aptitude Test
Applicants with valid Higher Aptitude Test (HAT) and Undergraduate Studies Aptitude Test (USAT) scores (obtained after January 15, 2022) may submit their applications on HEC portal. Applicants who have not yet taken HAT and USAT tests or want to improve their test scores may register at https://etc.hec.gov.pk for the upcoming test (tentatively end of January 2024/first week of February 2024).
Important Note
It is the sole responsibility of students applying for any professional degree (Medical, Engineering, Nursing, Architecture, Law, Veterinary Medicine, Technology etc.) to confirm its accreditation from the respective Councils i.e. Pakistan Medical and Dental Council (PMDC), Pakistan Engineering Council (PEC), Pakistan Nursing Council (PNC), Pakistan Council for Architects and Town Planners (PCATP), Pakistan Bar Council (PBC), Pakistan Veterinary Medical Council (PVMC), National Technology Council etc.
PID(I)3053-D/23
Project Management Unit Academic & Research Linkages under Bilateral Agreement Scholarships Division Higher Education Commission Sector H-9, Islamabad. HEC Helpline UAN: 051- 111-119-432 & 0334-1119432 Website: https://onlinehelp.hec.gov.pk