Indus River System Authority Government of Pakistan Jobs – Government Jobs in Islamabad, Pakistan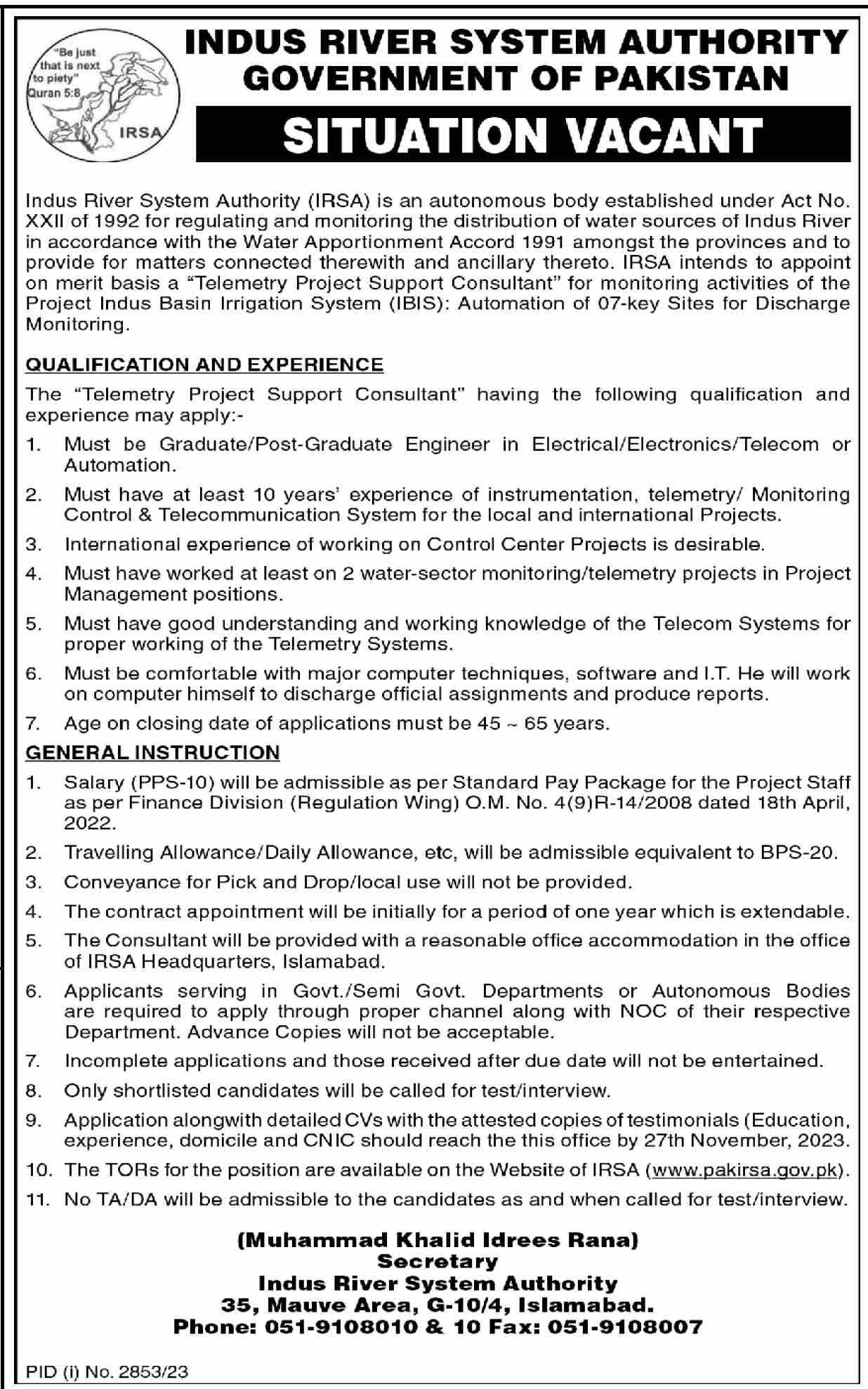 INDUS RIVER SYSTEM AUTHORITY GOVERNMENT OF PAKISTAN
SITUATION VACANT
Indus River System Authority (IRSA) is an autonomous body established under Act No. XXII of 1992 for regulating and monitoring the distribution of water sources of Indus River in accordance with the Water Apportionment Accord 1991 amongst the provinces and to provide for matters connected therewith and ancillary thereto. IRSA intends to appoint on merit basis a "Telemetry Project Support Consultant" for monitoring activities of the Project Indus Basin Irrigation System (IBIS): Automation of 07-key Sites for Discharge Monitoring.
QUALIFICATION AND EXPERIENCE
The "Telemetry Project Support Consultant" having the following qualification and experience may apply:-
Must be Graduate/Post-Graduate Engineer in Electrical/Electronics/Telecom or Automation.
Must have at least 10 year& experience of instrumentation, telemetry/ Monitoring Control & Telecommunication System for the local and international Projects.
International experience of working on Control Center Projects is desirable.
Must have worked at least on 2 water-sector monitoring/telemetry projects in Project Management positions.
Must have good understanding and working knowledge of the Telecom Systems for proper working of the Telemetry Systems.
Must be comfortable with major computer techniques. software and I.T. He will work on computer himself to discharge official assignments and produce reports.
Age on closing date of applications must be 45 – 65 years.
GENERAL INSTRUCTION
Salary (PPS-10) will be admissible as per Standard Pay Package for the Project Staff as per Finance Division (Regulation Wing) O.M. No. 4(9)R-14/2008 dated 18th April, 2022
Travelling Allowance/ Daily Allowance, etc, will be admissible equivalent to BPS-20.
Conveyance for Pick and Drop/local use will not be provided.
The contract appointment will be initially for a period of one year which is extendable.
The Consultant will be provided with a reasonable office accommodation in the office of IRSA Headquarters. Islamabad.
Applicants serving in Govt./Semi Govt. Departments or Autonomous Bodies are required to apply through proper channel along with NOC of their respective Department. Advance Copies will not be acceptable.
Incomplete applications and those received after due date will not be entertained.
Only shortlisted candidates will be called for test/interview.
Application alongwith detailed CVs with the attested copies of testimonials (Education, experience, domicile and CN IC should reach the this office by 27th November. 2023.
The TORs for the position are available on the Website of IRSA (www.pakirsa.qov.pk).
No TA/DA will be admissible to the candidates as and when called for test/interview.
(Muhammad Khalid Idrees Rana) Secretary Indus River System Authority 35, Mauve Area, G-10/4, Islamabad. Phone: 051-9108010 & 10 Fax: 051-9108007
PID (i) No. 2853/23