Pakistan Mineral Development Corporation Jobs in Ministry of Energy, Petroleum Division Government of Pakistan – Government Jobs in Islamabad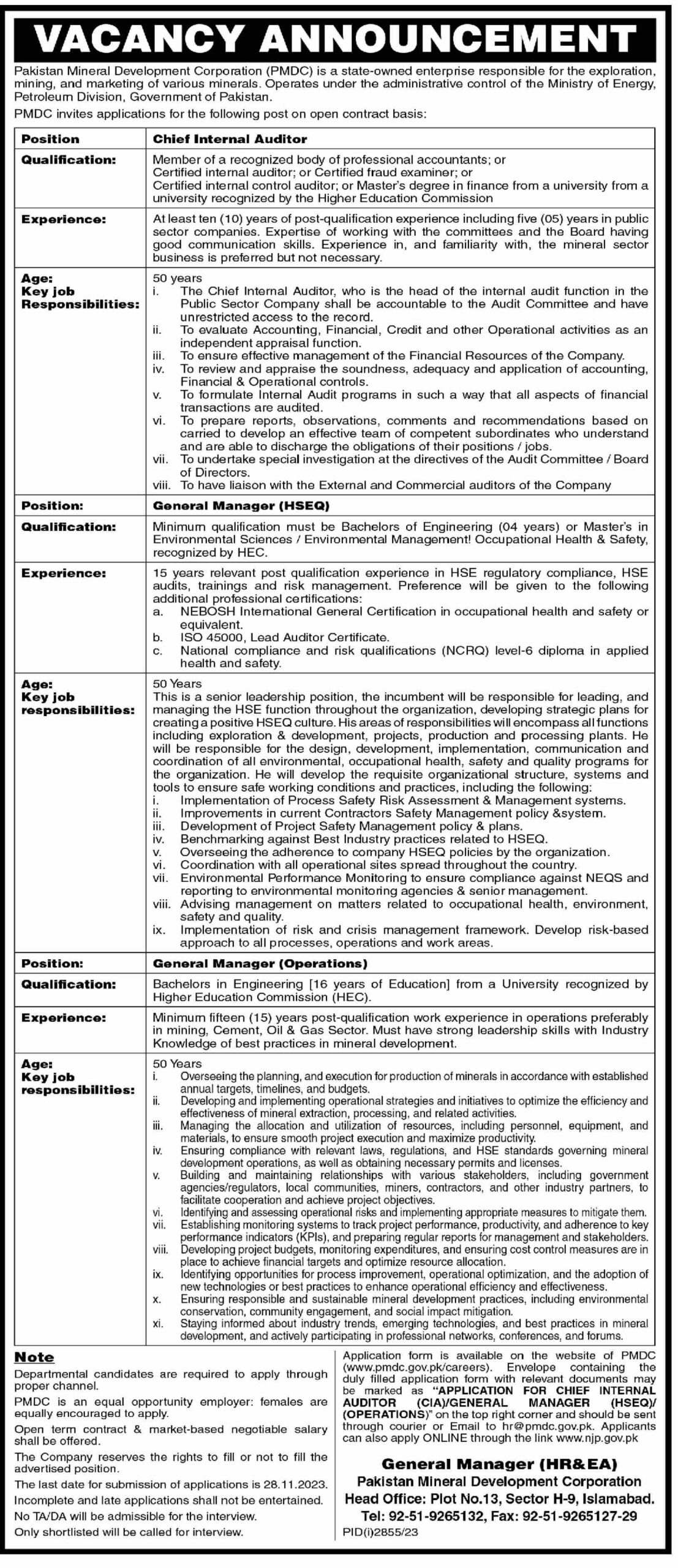 VACANCY ANNOUNCEMENT
Pakistan Mineral Development Corporation (PMDC) is a state-owned enterprise responsible for the exploration, mining, and marketing of various minerals. Operates under the administrative control of the Ministry of Energy, Petroleum Division, Government of Pakistan. PMDC invites applications for the following post on open contract basis:
Position Chief Internal Auditor Qualification: Member of a recognized body of professional accountants; or Certified internal auditor: or Certified fraud examiner; or Certified internal control auditor; or Master's degree in finance from a university from a university recognized by the Higher Education Commission Experience: At least ten (10) years of post-qualification experience including five (05) years in public sector companies. Expertise of working with the committees and the Board having good communication skills. Experience in, and familiarity with, the mineral sector business is preferred but not necessary. Age: Key job Responsibilities: 50 years i. The Chief Internal Auditor, who is the head of the internal audit function in the Public Sector Company shall be accountable to the Audit Committee and have unrestricted access to the record. ii. To evaluate Accounting, Financial, Credit and other Operational activities as an independent appraisal function. iii. To ensure effective management of the Financial Resources of the Company iv. To review and appraise the soundness, adequacy and application of accounting, Financial & Operational controls. v. To formulate Internal Audit programs in such a way that all aspects of financial transactions are audited. vi. To prepare reports, observations, comments and recommendations based on carried to develop an effective team of competent subordinates who understand and are able to discharge the obligations of their positions / jobs. vii. To undertake special investigation at the directives of the Audit Committee / Board of Directors. viii. To have liaison with the External and Commercial auditors of the Company Position: General Manager (HSEQ) Qualification: Minimum qualification must be Bachelors of Engineering (04 years) or Master's in Environmental Sciences I Environmental Management! Occupational Health & Safety, recognized by HEC. Experience: 15 years relevant post qualification experience in HSE regulatory compliance, HSE audits, trainings and risk management. Preference will be given to the following additional professional certifications: a. NEBOSH International General Certification in occupational health and safely or equivalent. b. ISO 45000, Lead Auditor Certificate. c. National compliance and risk qualifications (NCR()) level-6 diploma in applied health and safety. Age: Key job responsibilities: 50 Years This is a senior leadership position, the incumbent will be responsible for leading, and managing the HSE function throughout the organization, developing strategic plans for creating a positive HSEQ culture. His areas of responsibilities will encompass all functions including exploration & development, projects, production and processing plants. He will be responsible for the design, development, implementation. communication and coordination of all environmental, occupational health, safety and quality programs for the organization. He will develop the requisite organizational structure, systems and tools to ensure safe working conditions and practices, including the following: i. Implementation of Process Safety Risk Assessment & Management systems. ii. Improvements in current Contractors Safety Management policy &system. iii. Development of Project Safety Management policy & plans. iv. Benchmarking against Best Industry practices related to HSEQ. v. Overseeing the adherence to company HSEQ policies by the organization. vi. Coordination with all operational sites spread throughout the country. vii. Environmental Performance Monitoring to ensure compliance against NEQS and reporting to environmental monitoring agencies & senior management. viii. Advising management on matters related to occupational health, environment, safety and quality. ix. Implementation of risk and crisis management framework. Develop risk-based approach to all processes, operations and work areas. Position: General Manager (Operations) Qualification: Bachelors in Engineering [16 years of Education] from a University recognized by Higher Education Commission (HEC). Experience: Minimum fifteen (15) years post-qualification work experience in operations preferably in mining, Cement, Oil & Gas Sector. Must have strong leadership skills with Industry Knowledge of best practices in mineral development. Age: Key job responsibilities: 50 Years i. Overseeing the planning, and execution for production of minerals in accordance with established annual targets, timelines. and budgets. ii. Developing and implementing operational strategies and initiatives to optimize the efficiency and effectiveness of mineral extraction, processing, and related activities. iii. Managing the allocation and utilization of resources, including personnel, equipment, and materials, to ensure smooth project execution and maximize productivity. iv. Ensuring compliance with relevant laws: regulations, and HSE standards governing mineral development operations, as well as obtaining necessary permits and licenses. v. Building and maintaining relationships with various stakeholders. including government agencies regulators, local communities, miners, contractors, and other industry partners, to facilitate cooperation and achieve project objectives. vi. Identifying and assessing operational risks and implementing appropriate measures to mitigate them. vii. Establishing monitoring systems to track project performance. productivity, and adherence to key performance indicators (KPIs), and preparing regular reports for management and stakeholders. viii. Developing project budgets. monitoring expenditures, and ensuring cost control measures are in place to achieve financial targets and optimize resource allocation. ix. Identifying opportunities for process improvement. operational optimization, and the adoption of new technologies or best practices to enhance operational efficiency and effectiveness. x. Ensuring responsible and sustainable mineral development practices, including environmental conservation, community engagement. and social impact mitigation. xi. Staying informed about industry trends, emerging technologies, and best practices in mineral development, and actively participating in professional networks, conferences, and forums.
Note Departmental candidates are required to apply through proper channel. PMDC is an equal opportunity employer: females are equally encouraged to apply. Open term contract & market-based negotiable salary shall be offered. The Company reserves the rights to fill or not to fill the advertised position. The last date for submission of applications is 28.11.2023. Incomplete and late applications shall not be entertained. No TAIDA will be admissible for the interview. Only shortlisted will be called for interview.
Application form is available on the website of PMDC (wwvi.pmdc.gov.pk/careers). Envelope containing the duly filled application form with relevant documents may be marked as "APPLICATION FOR CHIEF INTERNAL AUDITOR (CIA)/GENERAL MANAGER (HSEQ)/ (OPERATIONS)" on the top right corner and should be sent through courier or Email to hrQpmdc.gov.pk. Applicants can also apply ONLINE through the link www.njp.gov.pk
General Manager (HR&EA) Pakistan Mineral Development Corporation Head Office: Plot No.13, Sector H-9, Islamabad. Tel: 92-51-9265132, Fax: 92-51-9265127-29 PID(i)2855/23